If you've spent any time accessing NHS services recently you may have noticed how stretched and understaffed a lot of departments are. Indeed, a cursory look at the news reflects staff sickness, vacancies and a reliance on private providers to ensure and uphold satisfactory levels of patient care. With a vacancy of special occupations in fields such as pharmacy, nursing and other specialist fields, there is a clear deficit in skilled UK workers, leading to an expansion of the occupation shortage list. With this government scheme, individuals from international countries can apply for jobs with up to 80% of the salary and also receive a skilled worker visa to reside in the UK. Following a points based system, 20 points will be accounted against a salary of 20% of the minimum salary threshold which stands at most cases at around £20,480.
Figures in the immediate aftermath of Brexit show retention levels of staff in the NHS for both EU and other non-EU nationals fell significantly. Over 100,000 British citizens chose to leave the NHS in the year to end June 2017. Even with these eyewatering statistics, the retention rate still remains higher for British citizens (88.4%) compared to EU nationals 83.2%. Nursing and ambulance teams have been hit particularly hard, and stretched staff are now experiencing a mental health epidemic with record sick claims, absence and poor performance which puts patient safety at risk. With new Right to Work legislation coming into effect in early April, the following is stated clearly on the government website, "the updated guidance states that Biometric Residence Permits (BRP), Biometric Residence Cards (BRC) or Frontier Worker Permits (FWP) are no longer acceptable as proof of right to work". This represents a windfall change in the acceptance of workers from the EU or international areas and is set to have had a devastating impact on healthcare roles like pharmacy, nursing and specialist care assistants After April 2022, employers must use services which offer Identity Service Provider status to have official screening, checks and balances to EU and international workers.
Speaking in healthbusinessuk, healthcare journalist Pia Subramaniam stated, "in the healthcare sector, many jobs do not qualify under the current minimum salary requirement, as the average salary of a registered UK nurse is £23,000, while the median salary of a role in the care sector is £16,623. These individuals thereby fall well below the minimum salary threshold". Here, it's clear that those qualifying occupations on the occupation shortage list are those with higher earnings such as radiographers, pharmacists and other specialist fields. An absence of nursing and care work typically on the shortage occupation list is partly to try and encourage a UK growth in provision for UK nationals to enter caring fields, and future government pledges should seek to get behind this movement. From the occupation list, here is a snapshot of the top 3 types of roles which are currently lacking of enough staff, thus qualifying for the occupation shortage list;
| | | | |
| --- | --- | --- | --- |
| Occupation code | Job types included on the shortage occupations list | Areas of the UK where there is a shortage | Annual salary (80% of going rate) |
| 1181 | Health services and public health managers and directors – all jobs | England, Scotland, Wales, Northern Ireland | 80% of going rate: £30,720 (£15.15 per hour) |
| 1242 | Residential, day and domiciliary care managers and proprietors – all jobs | England, Scotland, Wales, Northern Ireland | 80% of going rate: £21,360 (£10.53 per hour) |
| 2111 | Chemical scientists – only jobs in the nuclear industry | Scotland only | 80% of going rate: £21,360 (£10.53 per hour) |
One discipline facing a paradoxical increased qualification but also increased vacancy is pharmacy. A 2019 survey found vacancy rates of 6% for community pharmacists in Wales and a further Scottish survey 2020 found vacancy as high as 12% for community pharmacists and a much smaller percentage for locum pharmacists of 0.18%. A highly useful illustration found below featured in The Pharmaceutical Journal, showing the competition in demand for community pharmacists last year.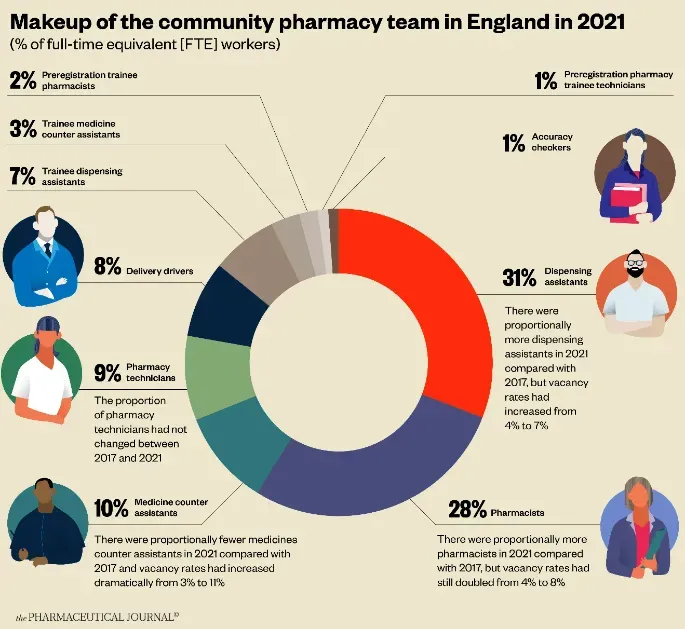 With a drought of UK pharmacists, there has been a promotion of pharmacy onto the occupation shortage list. Seeming quite like self-immolation, many pharmacists left the UK back to the EU following the referendum, leading to 3,000 vacancies across the UK. Late last year, PSNC, National Pharmacy Association, Company Chemists' Association and Association of Independent Multiple Pharmacies raised an alarm for the health secretary to acknowledge, saying the only solution to the crisis was continued UK development and funding to improve self-sufficiency, "Community pharmacy's response to Covid-19 has shown that the sector is prepared to go above and beyond to support patients and the NHS, but this is unsustainable without the people to deliver consistently. It is therefore vital that these cross-sector conversations with NHS England and NHS Improvement result in solutions to address the matter - both the immediate pinch on capacity and the longer term challenges. There are no easy fixes and this will require a collaborative effort across the sector, NHS and Government."​